Two Years
Posted by James on Saturday 12th August 2006 @ 2:03 PM

It has been two whole years since the first version of the Department of Death launched, featuring nothing more than a few pieces of info about the game and a very small fan art section. Since then an incredible amount of work has gone into the site, both from staff members and fans of the game to bring the site to make the site what it is today.

To celebrate the anniversary of the DOD, we are releasing another hosted site - the Grim Fandango Central. I'm sure many of you will remember it from the days when it was the main site for Grim Fandango information, until it disappeared from the Internet. Well, a 2002 version of the site is back at http://gfc.grim-fandango.com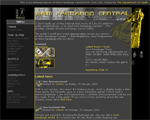 While we were not able to recover all of the content, a large portion of it is there, and over time more will be added.



---

Comments (newest first) - 3 so far


---
Thrik

13 Aug 06
7:28 AM

You should have let me know you wanted to restore these old sites; I've got them all saved, including a complete dump of the pre-LucasForums forums.

I'll put them up in a bit for you to check out. Some rather nostalgic (and embarassing) stuff.
---
James

Comments: 53

13 Aug 06
6:32 AM

Many thanks to Zaarin for finding an old backup of the site and helping with the restoration!
---
VampireNaomi


Comments: 43

12 Aug 06
3:30 PM

Wow, that's like going back with a time machine. I especially love the enthusiastic posts about a sequel being in production. It's so lovely and sad at the same time.
---

Place a comment

Comments disabled until we can solve the spam problem