Edge Magazine Features LucasArts
Posted by James on Tuesday 22nd August 2006 @ 12:17 PM - Comments: 4

The main feature in the September edition (Issue 166) of the UK gaming magazine Edge is an article about the history of LucasArts games, including Grim Fandango. The magazine includes an interesting front cover:




And as can be seen on our Grim Fandango 2 page, the magazine also mentions the now known to be false rumour that Tim Burton is working on a Grim Fandango movie. Thanks to kitmit for letting us know and providing the scans.


---


Private Messaging System Added
Posted by James on Wednesday 16th August 2006 @ 11:35 AM - Comments: 2

You may have noticed that a new private messaging feature has been added to the site recently. It can be accessed with a single click from the link in the grey info bar just below the header (where it says '1 new message'), or from your profile.

The idea is to provide a quick and easy way to contact other Grim Fandango fans signed up to the site without having to switch to an email website (however it is also set up so that you will recieve an email when you recieve a new private message, so don't worry about having to constantly check your messages). It also makes it easier for moderators to notify members of any content submitted which needs attention.

Other relatively new features added to the site are a search page, a redesigned easter eggs page and fan music/fan sheet music sections.


---


Two Years
Posted by James on Saturday 12th August 2006 @ 2:03 PM - Comments: 3

It has been two whole years since the first version of the Department of Death launched, featuring nothing more than a few pieces of info about the game and a very small fan art section. Since then an incredible amount of work has gone into the site, both from staff members and fans of the game to bring the site to make the site what it is today.

To celebrate the anniversary of the DOD, we are releasing another hosted site - the Grim Fandango Central. I'm sure many of you will remember it from the days when it was the main site for Grim Fandango information, until it disappeared from the Internet. Well, a 2002 version of the site is back at http://gfc.grim-fandango.com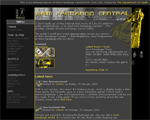 While we were not able to recover all of the content, a large portion of it is there, and over time more will be added.


---


Another Two Hosted Sites
Posted by James on Saturday 29th July 2006 @ 8:53 AM - Comments: 6

Two new sites, Sweet as Mango and The Petrified Forest, have been addded to our ever-growing list of hosted sites. If you are interested in recieving free hosting for your Grim Fandango related site, look here.


Sweet as Mango, accessible at http://mango.grim-fandango.com is a fairly new site by VampireNaomi dedicated to Nick and Olivia, and featuring some of VampireNaomi's fan fiction and fan art.

The Petrified Forest, accessible at http://petrified.grim-fandango.com was created in early 2000 by Zaarin before he started working on Grim Fandango Central. The site is no longer updated, but features a lot of useful content about the game, and a great design.


---


What Happened to the Site?
Posted by James on Thursday 27th July 2006 @ 7:56 AM - Comments: 2

You may have noticed the large amounts of downtime on this site overthe past couple of days. This is because our hosts had a major server crash (first time in a very long time), and after many attempts at rebooting the server they had to reinstall the operating system and restore every site manually from backups. Due to this, the site went down to be restored. Daily backups are taken by our hosts, but when the server crashed these were lost and an older weekly backup had to be used.

If in the period of 18th - 24th July you registered, added fan content or added a comment it may have been lost. If in the period of 15th July - 24th July you uploaded an image to the site, it may have been lost. If any of those apply to you, please check to see if the item is still there. If it is not, it would be extremely heplful if you could please re-add it.

This will not happen again due to major new precautions that are now taken. Data from the site is now backed up daily, so if another incident occurs, data can be restored to exactly how it was only a few hours before. We apologise greatly for any inconvinience if this caused you to lose anything. Our hosts were taking daily backups of the data, but those were also lost in the server crash, so this was very unexpected.

The hosts are still in the process of restoring the rest of the sites, so you may experience a slight slow-down, but once they are done (shouldn't take longer than 12 hours) the site will be back to normal.


---


[First Page] [Prev] 1 2 3 4 5 [Next] [Last Page]